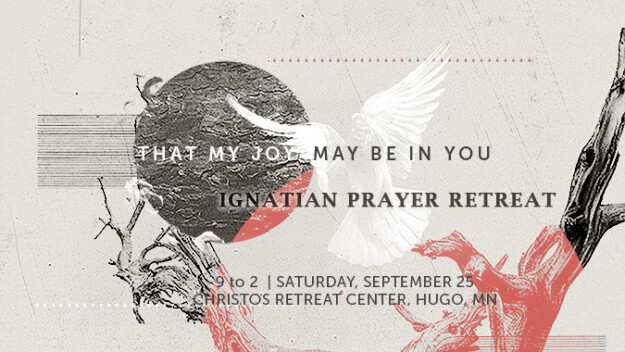 Saturday, September 25, 2021, 9:00 AM - 2:00 PM
What: Guided Ignatian Prayer Retreat
When: Saturday, September 25 from 9 a.m. to 2 p.m.
Where: Christos Retreat Center: 1212 Holly Drive, Lino Lakes, MN 55114
Cost: $10.00 per participant. (Paid to Community of Grace.)
Who: Member Chris Lepoutre, an experienced leader of Guided Ignatian prayer retreats, is offering her gifts, once again, to bless us with some guided contemplative time with Jesus. The theme for this retreat will be from John 15:11, "That my joy may be in you, and that your joy may be complete."
Lunch: Please bring your own lunch and/or snacks (to be most COVID friendly). The center has both a refrigerator and a microwave to accommodate these needs.
Between times of presentation, there will be ample time to spend in prayer outside on the park-like grounds as well as several private places inside.
Sign up at the front desk. More Questions? Ask Pastor Angie.