Meet Pastor Darrin Vick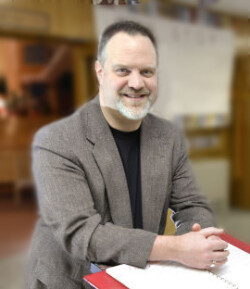 It was just last August we announced the Call for a new Senior Pastor and now the Call Committee and Council have made a recommendation. Pastor Darrin Vick has agreed to move forward in our Call process.
Pastor Darrin earned his Bachelor of Arts in Organizational Leadership at Bethel University and a Master of Divinity at The Master's Institute. He began his ministry at Discover Church in Brooklyn Park, MN in 1998 as a Youth Minister. He is currently serving as the Senior Pastor at Morningside Lutheran Church (LCMC) in Sioux City, IA, a call he has held since 2012.
Throughout the Call Process, both the Call Committee and Council observed Pastor Darrin as a passionate and gifted preacher/teacher, and someone who keeps Jesus at the center of everything he does.
We want you to be prepared for the congregational vote to decide whether to officially extend the call. Join us as we get to know the Vick Family.
March 3-17
Members submit questions for Pastor Darrin at the front desk or online at .
March 17-
Watch Pastor Vick Sermon - Now I See
March 24
Pastor Darrin and Family will be introduced at all services
10:45 a.m. Lunch with the Vick Family (Student Ministries Fundraiser; freewill offering)
12:15 p.m. Question and Answer Session (using questions submitted prior to the meeting)
1:00 p.m. Special Congregational Meeting
Current member will vote on calling Pastor Darrin to be our Senior Pastor (non-members are invited to participate in everything but the vote)